Specialized Technology for Forensic Investigation of Emails!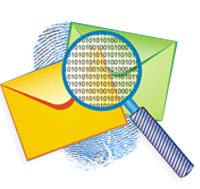 Digital communications, especially emailing has become a prominent way to interact in a personal and professional life. The substantial usage of emails has outgrown to a level where cybercriminals too have misused this communication technology. Initially the email protocols were safer but now cyber crime has been indulged in spam mails, phishing, spreading viruses, hoaxes, etc. Email forensics is necessary to take out hidden evidences from these emails to track the records of crime.
Forensic has been designed to give a platform where almost every type of forensic investigation of emails can be done. It has many useful modules which help for thorough investigation and making the evidences admissible in court.

Prominent Search Mechanism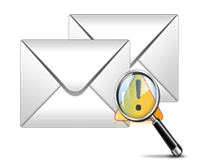 Software allows searching every nook and cranny of scanned emails using the Search tab which have been categorized as General, Predefined, Advance and Proximity.
General Search:

Under General Search one can use particular terms, MD5 value, or keywords to search.

Provision of Filter Criteria which can be used by refining search by through Subject, From, To, Body to.

Logical Operators are embedded to modify the search using combination or conjunction, absence, presence of certain keywords using AND, OR, NOT, operators.
Predefined Searches:

Some categories are predefined and one can search its sub category very easily.

For e.g. when you choose Addresses as category and IP Address as sub category, computer forensics email investigation tool will sort all the emails containing IP addresses.
Advance Searches:

You can choose a category and provide specifications like "starts with" and "ends with"
.

Emails belonging to such category will be displayed.
Special Types of Searches:

Wildcard searches are involved to search special characters like "*".

Stem search is available when investigator is unsure of words.


Approximate string matching can be done using the Fuzzy Search. Search parameters will not trace exact parameter but close to it results will be displayed.
Multi-Keyword Searching: There is also one option to add multiple keywords to highlight the searches more. This can be done either by separating keywords by commas or by adding a CSV file to the software to trace keyword in bulk.
Such prominent searching capabilities are very useful for investigators as without wasting time one can get desirable and correct results in minimal time which is priority for any Email Infidelity in a Computer Forensics Investigation.
Email Investigations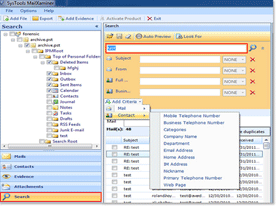 30-Day Monel Back Guarantee