Want To Switch DBX To Windows Live Mail? Try Our Tool

If you are looking for some email conversion solution that can convert your email file from DBX to Windows Live Mail then DBX convertor is the best option for you. This tool has been developed in way that if a Outlook Express user wants to change their emailing client then they can convert their DBX file to multiple options like MS Outlook i.e. (Convert DBX to PST), EML i.e. (Convert DBX to EML). Converting DBX file to EML will help the user to open their mail data in various other emailing clients like Eudora, Thunderbird, and Windows Live Mail etc.
Know Procedure - How to Convert DBX to EML
In-order to convert DBX to Windows Live Mail user has to follow a few effortless steps of this tool.
Click on option "Save as EML" among all four options
Click on "Browse" option to get the location where you need to save the converted file.
Software will start conversion process and once it is done a message will pop up "Are you sure you want to exit" click on "Yes" option.
How to Convert DBX file to Windows Live Mail
Now, the file with .EML extension can be accessed on Windows Live Mail. In-order to open the .EML file in Windows Live mail first user has to import EML to Windows Live Mail.
Get Practical Knowledge of Software with Demo Edition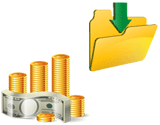 In-order to have the clear understanding of Outlook Express converter tool, try its demo version. Although the demo version has limited features but it will show you all the operation. It will show you the steps involve in converting DBX file to EML by letting you convert only 25 items from each folder. After trying demo you can confidently go for full version of the tool convert DBX to Windows Live Mail.